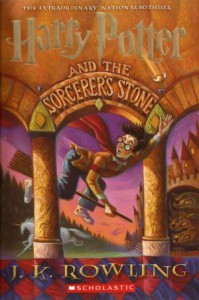 MILD SPOILERS AHEAD, BUT IF YOU DON'T KNOW WHAT HAPPENS IN HARRY POTTER, YOU PROBABLY SHOULDN'T BE ON A SITE LIKE GOODREADS IN THE FIRST PLACE
I've had the rather odd pleasure of "reading" Harry Potter completely backwards. I read the second entry in the series waaaaay back in 2005, after which I skipped the other books and read
Deathly Hallows
spoilers on Wikipedia shortly after the book was released. Then I went back and read the first book,
Sorcerer's Stone
(or
Philosopher's Stone
, which I actually prefer as a title).
Since most people try to read series in chronological order, my experience is quite unique. I think it's allowed me to pinpoint Harry Potter's strengths and weaknesses.
But mostly the weaknesses. If you disagree thus far, read
Deathly Hallows
and then come back to
Stone
. Notice any differences? It's almost as if they're two different series. All-powerful demon-wizard bro Voldemort is living on the back of someone's head? Really? Are we supposed to take Voldemort seriously given this plot development?
DEATHLY HALLOWS (HOW IT SHOULD HAVE ENDED)
It is dusk at HOGWARTS. HARRY POTTER is studying charms or whatever it is one studies at Hogwarts. All of the sudden, VOLDEMORT appears with a flash.
VOLDEMORT: Harry, my boy. I killed your parents and now I've come to kill you. MWA HAHAHA.
POTTER: Really, dude? Seriously? Didn't you show up on the back of someone's head a few years ago? Is that all you've got? Heck, I've had rashes that are worse than that.
VOLDEMORT looks sheepish.
VOLDEMORT: It's not my fault, I swear! Blame that J.K. Rowling fool!
HARRY gives VOLDEMORT a stern look. VOLDERMORT melts into a puddle of water.

END SCENE
Yeah. So what's good about
Stone
? Well, maybe the fact that the sequel is worse?